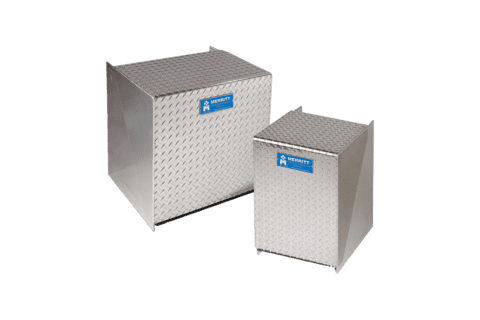 Aluminum Battery Boxes for Semi-Trucks
When driving for hours on the road, a set of extra batteries for your truck may come in handy. Bring enough back-up batteries for the trip through our strong, lightweight aluminum battery boxes for trucks.
Product brochure
Our metal battery boxes are available in five different styles, four require side-frame mounts, while one is an in-frame mount. All our boxes are easy and quick to install. Our in-frame box even comes with a mounting kit for your convenience. More importantly, our boxes can hold up to six groups of 31 batteries, giving your truckers peace of mind they won't get stranded on the road just because of a dead battery.
Five styles to choose from, to aid in your installation process.
Four side frame mounts and one in-frame mount.
Made from a strong, yet light-weight Aluminum alloy, for long life and weight savings.
Side frame units can mount using a frame drill bracket or a No-Drill kit that does not need to drill the frame. This allows for a savings in installation time.
All models of battery boxes are stocked in various Merritt Warehouse locations.
In-Frame box does not require any frame drilling to mount, saving installation time. Comes with mounting kit.
All boxes come with or have an optional battery hold down kit. You do not need to spend time on how to mount the batteries.
Battery boxes will hold two, four or six group 31 batteries. High-grade aluminum alloy construction for low weight, yet high strength to deliver longer box life.
Benefits of Merritt Battery Boxes
For truck drivers. With extra batteries packed in a box under your truck or mounted on the side of the flatbed, you don't have to worry about getting stuck on the road because of a dead battery. These stored batteries also allow you to run any of your equipment in the truck without actually running the engine.
In addition, our boxes come with a battery hold down kit. Every extra battery is secure, no matter how fast you drive. And you don't need to spend much time mounting or removing each battery inside the box.
For truck owners. Our battery boxes come in a variety of styles to suit your specific needs. If it's viable to equip your trucks with side-frame mounted battery boxes, we have several sizes and models for you. An in-frame or stack-pack option is available, too. No matter which style you pick, count on a battery box that is strong and durable but is lightweight enough to deliver weight savings.
Moreover, our battery boxes are quick and easy-to-install. Our side-frame mount options require no-drill mounting kit, while our in-frame boxes even come with a designated mounting kit. We help you save time in installation, just like how we keep truckers from getting stuck on a dead battery and delaying operations.
For parts managers. The hallmark of Merritt Aluminum products is toughness. All our boxes are made of high-grade aluminum alloy for a low-weight-yet-high-strength feature that delivers durability. You can count on our battery boxes to impress any of your customers. It's a plus that we offer various models.
In addition, we're a manufacturer that is easy to work with. Our purchase process is simple: call or email to place an order and then, we'll send your request to a Merritt location nearest to you for quick delivery time.
Why Choose Merritt?
As a top leading manufacturer for the trucking industry in North America, Merritt Aluminum Products offers the following advantages:
High-grade materials. We take pride in our aluminum materials and engineering processes that help us create sturdy battery boxes that don't add any significant weight to any semi-truck.
11 fully stocked warehouses. Our company has many warehouses across the US, making us capable of shipping products to anywhere in the country in just a few days.
Good-looking battery boxes. With diamond plate finish, our battery boxes are a striking addition to any side or flatbed of a semi-truck.
Ready to experience the Merritt advantage? Get in touch with us to place an order.