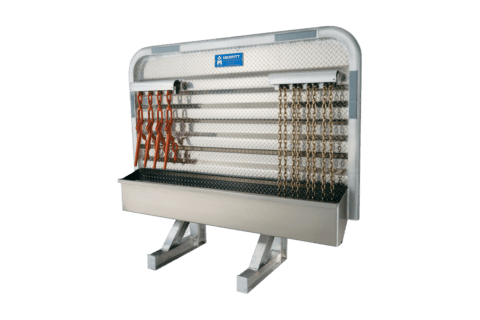 Showing 1–20 of 44 results
Durable Aluminum Cab Racks for Semi Trucks
Merritt Aluminum Products aluminum cab racks are a standout in the world of truck accessories. Our cab racks are engineered to deliver legendary toughness while keeping their weight light to suit semi-trucks. Made of high-grade aluminum, our cab racks exude a refined look that can elevate any truck's exterior design. More importantly, we designed them to offer innovative storage solutions for truckers.
Product brochure
Also, our cab racks (sometimes known as headache racks for semi-trucks) are fast and easy to purchase. With warehouses across the US, our company can ship orders in just a few days and without any hassle.
Cab Rack Models and Options
Dyna-Tube Extrusion, aerodynamic radius corner shape, for low weight. Offset design to accommodate the new style exhaust systems. 4" Foot assembly provides increased trailer clearance, easier mounting and durability.
New T-Beam extrusion allows Merritt to decrease T-beam profile by one inch, allowing greater swing room clearance.
5"uprights require less mounting space.
Great for storage, one door, two door and full three door enclosures are available. Internal shelves and chain hangers are popular options. Keep your storage items out of the weather and out of sight.
Cabinet Cab Racks for Large Storage Area
Large storage area, keep your storage items out of the weather and out of sight. Break-off tabs are on the foot to fit all standard frame widths. Smooth Doors are available.
No rear uprights, allowing for closer installation to the truck cab, a real space saver. Full three door enclosure. A very compact, usable storage unit.
Chain hangers and a full width top shelf are built into the design of the Cabinet Cab Rack. Side door option available for easy access from the ground.
Additional mounting brackets not required for standard installations (drilling is required). A problem solver, mounting system is available for non-standard applications.
Dyna-Drom Cab Racks for Easy, Efficient Tool Storage
Great for storage, one door, two door and full three door enclosures are available. Internal shelves and chain hangers are popular options. Keep your storage items out of the weather and out of sight. Full enclosure option available on all models.
Decks are designed to carry 1000#lbs. per linear foot, allowing for more cargo carrying area.
Aerodynamic shape patterned with the new truck designs.
Drom decks available from 30″ to L 96″.
Northern-Light Cab Racks for Semi Trucks
The All New Northern-Light Cab Rack unit comes standard with a 3 door enclosure and LED lights.
2 chain hangers in each outside compartment and a 6′ Wiring harness.
2 heavy duty shelves in the center L compartment. The enclosure is 8″ deep / 9″ with the door.
It does not have rear beams, you can mount the unit 5″ closer than a normal enclosure unit.
The unique foot allows you to mount it with a 3240 U-bolt kit or it can mount like a Short Foot by bolting through the frame web. Stocked in most Merritt warehouse locations.
Short Foot Cab Racks
Increased clearance over the standard Cab Rack.
Fits any Merritt Cab Rack, Dyna-Light or Diamond Back. (15 Models)
Fits all standard truck frame widths.
Special tray options are available to maximize trailer swing clearance.
Drill pattern mounting instruction attached to the foot for ease of installation.
Stocked in most Merritt warehouse locations.
What Are the Benefits of Cab Racks?
For truck drivers. Cab racks may come with toolboxes, chain trays, and hangers, shelves, and enclosures to give truckers secure, organized storage areas for cargo straps, coil racks, tools, and personal items. With such storage solutions, drivers gain peace of mind knowing they have all the items they need to endure long hours on the road and complete all their tasks within the schedule.
For truck owners. Semi-trucks, including those 18-wheeler trucks, have a long flatbed for cargo. But even with all that space, these trucks don't usually have enough area to keep and organize important tools and other items. This is where headache racks come in. They offer a space-saving storage solution for various items and accessories. They're also a cost-effective option as they are quick, easy, and affordable to install. They can be customized to suit specific needs, too.
For parts managers. Cab racks are a great addition to any semi-truck, giving parts managers a unique advantage when closing a truck sale or offering a service to semi-truck drivers and owners. These products are often available in various styles, models, and sizes. Parts managers can impress customers with a lot of options. They just need to partner with a reliable aluminum headache or cab rack supplier, so they can focus on sales rather than hunting for parts each time a client needs a storage solution.
What's the Merritt Advantage?
Legendary toughness. We use high-grade aluminum alloy and advanced engineering processes to manufacture cab racks that are lightweight yet durable.
Visually appealing products. Often referred to as "truck jewelry," our cab racks are finished in a smooth or diamond plate, adding a grand, refined look to any semi-truck. Our products may also come with LED lights, three-door enclosures, and short foot for increased clearance.
National reach. We have representatives and fully stocked warehouses across the US. This allows us to ship your orders anywhere in the country within a few days and without any hassle.
Disclaimer: Our cab racks are not a safety device and won't prevent injury or death from a forward-shifting cargo caused by a road accident or improper load securement.
Ready to build your cab rack or order a standard model? Don't hesitate to get in touch with us.