Guide to Selecting a Cab Rack for Your Class-8 Truck
Merritt Aluminum Products is your one-stop-shop for selecting the right cab rack for your semi-truck. Hit the road with the confidence that your belongings are stored safely and securely, with plenty of room for all of your essentials.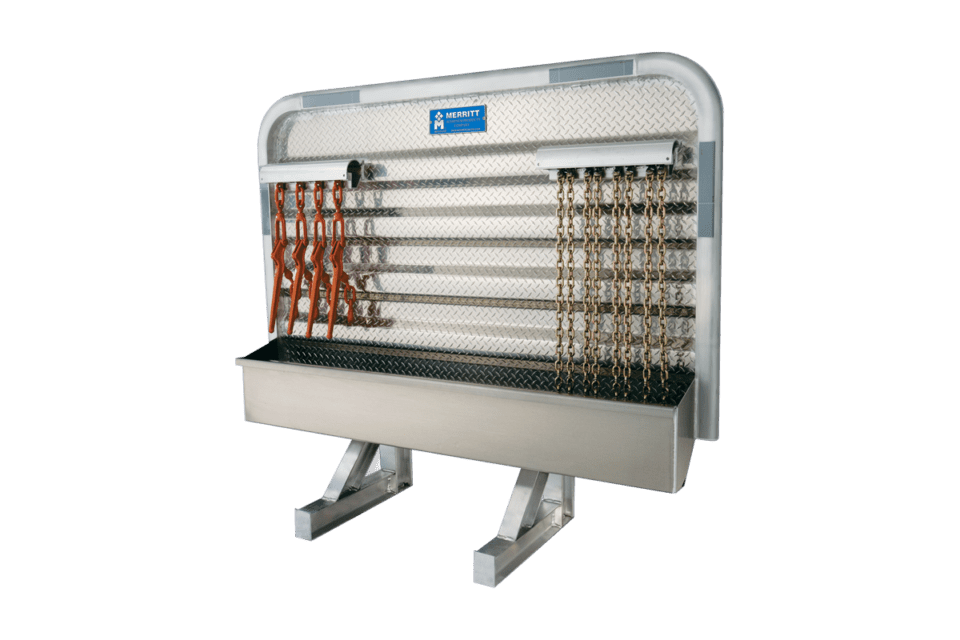 Merritt Aluminum Products is your one-stop-shop for selecting the right cab rack for your semi-truck. Hit the road with the confidence that your belongings are stored safely and securely, with plenty of room for all of your essentials.
Read on for the strengths and specifications of each category of cab rack offered by the trusted professionals at Merritt.
Features of Merritt's Base-Unit options include Dyna-Tube Extrusion, an aerodynamic radius corner shape for low weight. Lighten your load with a sleeker, more lightweight design.
The innovative offset design works to accommodate the more modern, updated style of exhaust systems.
A functional 4" foot assembly provides increased trailer clearance, easier mounting, and better durability during your time on the road.
The new T-Beam extrusion allows Merritt to decrease the T-beam profile by one inch, allowing greater swing room clearance for your semi-truck's navigational needs.
Less mounting space is required with the 5"upright feature, making installation easier and more readily accessible.
These base-unit options from Merritt provider great storage solutions for your semi-truck, keeping your essential items safe, secure, and free from weather-related damage.
Choose from one-door, two-door, and full three-door enclosure options. Internal shelves and chain hangers are popular options for added organization solutions.
These heavy-duty Cabinet Cab Racks feature smooth doors and a large storage area to keep your belongings safe, secure, and dry during inclement weather conditions.
The convenient break-off tabs on the foot of the rack will fit all standard frame widths, making them an appealing option for a variety of semi-truck drivers.
Save a ton of space by installing the cab rack closer to your truck cab, which is possible thanks to no rear uprights. Storage solutions on your semi-truck are always important to consider.
Out compact, fully-functional Cabinet Cab Racks also include a full three-door enclosure for extra storage room. Keep your belongings organized and easily accessible at all times with plenty of usable space.
Additional features include built-in chain hangers and a full-width top shelf, plus a side door option to provide easy access from ground-level. This is a must-have feature when you need to get to your belongings quickly and efficiently.
Installing our Cabinet Cab Racks is hassle-free. Although drilling is required, no additional mounting brackets are needed for standard installation processes.
Need to install on a non-standard application? A "problem-solver" mounting system is available to get the job done seamlessly.
Merritt's Dyna-Drom Cab Racks are all about providing you with the essential storage space you need while maintaining durability and functionality.
Keep your items stored safely in this Dyna-Drom Cab Rack unit—out of plain sight and secure from less-than-desirable weather conditions.
These cab racks offer one-door, two-door, and three-door enclosure options to customize the unit to your preferences and specific storage needs.
Popular options also include features like internal shelves and chain hangers for added functionality and effective organization options.
The heavy-duty decks can carry up to 1000 lbs. of cargo per linear foot, creating more space to haul larger loads. Drom decks are available from 30" to 96" in length.
The sleek, aerodynamic shape of these innovative cab racks is patterned after newer truck designs for a more modern look.
Store your essential items in one of Merritt's all new Northern-Light Cab Rack units for your semi-truck when you hit the road.
These illuminating cab racks come standard with a three-door enclosure and signature LED lights to brighten the road ahead.
Each outside compartment features two convenient chain hangers, as well as a 6 foot wiring harness to keep your cargo secure at all times.
Two heavy-duty shelves in the center compartment provide additional storage and organization options. This storage enclosure measures 8" deep without the door, and 9" deep with the door installed.
The Northern-Light Cab Rack unit doesn't have rear beams to navigate around, allowing you the convenience of closer installation than a typical enclosure unit (up to 5 inches).
Mounting options for this unique foot include using a 3240 U-bolt kit, or mounting it similarly to a Short Foot cab rack by bolting through the frame web.
Get yours today! The Northern-Light Cab Racks are stocked and readily available in most Merritt warehouse locations.
Outfit your semi-truck with a Short-Foot Cab Rack for increased clearance over the standard cab rack unit, making your time on the road easier to navigate.
The versatile design of the Short-Foot unit allows for a flexible fit on any Merritt Cab Rack, Dyna-Light, or Diamond Back (15 models to choose from).
This model also fits all standard truck-frame widths for added convenience and functionality.
Choose from several special tray options in order to maximize your semi-truck's trailer-swing clearance.
Installation is clear and stress-free, and the drill pattern mounting instructions are conveniently attached to the foot of the unit.
Get your Short-Foot Cab Rack today—they're stocked and ready to go in most Merritt warehouse locations.